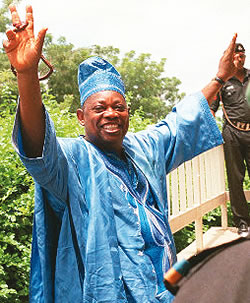 June 12 every year is set aside by many Nigerians to celebrate and remember the life of late
Moshood Kashimawo Olawale Abiola
popularly called M.K.O Abiola.
This day 24years ago, the presidential election in which M.K.O Abiola was a candidate was annulled over alleged evidence that it was corrupt and unfair.
He is still referred to as the winner by many since there was no official announcement of the results.
M.K.O Abiola died in 1998 at age 60 on July 7.
Political leaders and the general public have taken to their social media platforms to remember the day.
— Bola Ahmed Tinubu (@AsiwajuTinubu) June 12, 2017
On June 12, 1993, Nigerians came together to show unity and comradeship. It's a part of our history, must never forget!

pic.twitter.com/XH1x7RH0BT

— Atiku Abubakar (@atiku) June 12, 2017
— Isado (@Isado20) June 12, 2017
— Yemie Fasipe  (@YemieFASH) June 12, 2017
I remember this day 24 years ago. We started celebrating Abiola's victory around 2pm

Two hours later, we cut short our celebration#June12
— Tunde Eneji (@iameneji) June 12, 2017
Do u remember MKO's campaign song? It was my favorite

No work, no food, no light na small water dem dey bring..
SDP, MKO..ACTION#June12 pic.twitter.com/90VGujGMu7
— Kemi Ariyo (@d_problemsolver) June 12, 2017