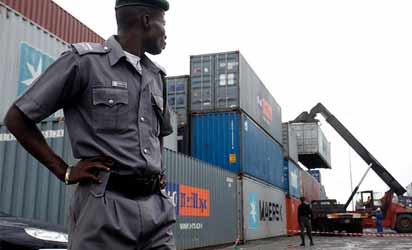 Nanbyen Burromvyat
, the Customs Area Comptroller in charge of Calabar Free Trade Zone, Cross River and Akwa Ibom Command, has said the command intercepted three consignments containing 140 species of snakes and 600 other animals imported into Nigeria.
She said the consignments were imported from Cameroon aboard a vessel
MV Flesh
, and were intercepted by officers on July 24, 2017, on arrival at the
National Inland Waterways Authority (NIWA)
jetty, with a market value of N6.9 million.
PUNCH reports
that the Lagos-bound animals were made up of geckos, millipedes, hairy frogs and spiders.
"These containers have animals of different sizes. They were brought in on July 24, 2017, through the Calabar waterways. There is no permit to bring live animals into the country. We have seized and we are handing the animals over to the Nigerian Quarantine Services for further action. I do not know what they want to do with them, but I think that the animals are dangerous because they include snakes, spiders, geckos and other creatures. We have enough snakes around Nigeria already," Burromvyat said.
The species of the snakes were Atheris squamigera, Bitis gobanica, Dasypeltis ssp and Boiga pulverinata, the millipedes were of the Architreptulus species, the geckos of the Hemidactylus frenatus and Hemidactylus fasciatus species, the hairy frogs of the Trichobatrachus robustus species and the spiders of theArachnidae species