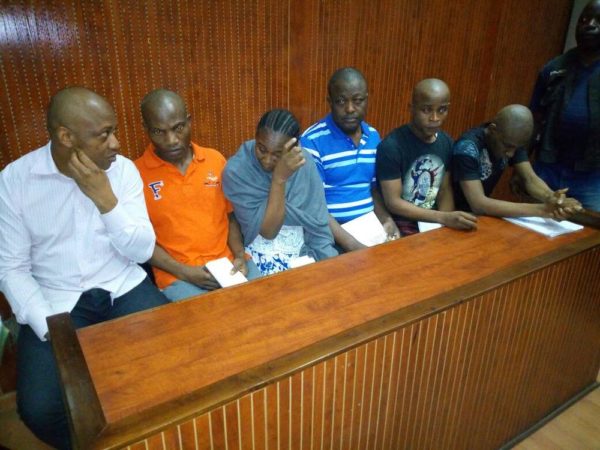 Two dismissed soldiers arrested in connection with the activities of kidnap kingpin
Chukwudumeme Omwuamadike
aka
Evans
have shared how they got into a life of crime.
Nonso Aduba Victor
, 28-year-old dismissed soldier from Onitsha North Local Government Area of Anambra State told Vanguard:
I joined the Nigeria Army on August 15, 2009. I was posted to Abati Barracks. I went into crime in the year 2015.

My income was low and it wasn't enough to fend for my family. One of my friends who is also from my home town known as Ikenna, led me into crime. He brought one of his friends, known as Skudo. They told me that Skudo was an importer. He told me that he imported clothes from China and we became friends. I used to escort him to his village whenever he was travelling and he paid me handsomely.

Sometime in January 2015, he called me and asked that I should meet him at Ago-Palace Way where he claimed he lived with his family.

He told me that there was a man owing him money and he needed me to come with my army uniform so that I could intimidate the man with my uniform. When I got there I saw Skudo, Ikenna, Evans and another person inside the car.

The front seat was empty and I entered and sat on it. We drove towards Ajao Estate. Ikenna and Skudo brought out two rifles and when I saw them, I was shocked. I asked what they were doing but Evans gave me a hot slap. He told me that I was now part of their group. Then they brought out a cup filled with gin and a bullet in it and they asked me to swear never to disclose what I saw to anyone.

After that Evans got a call from someone about someone he had been monitoring. Evans drove fast and he caught up with the person and kidnapped him. Skudo, Ikenna and the other man came out of the vehicle and kidnapped the man. While on our way, I saw a man on a power bike and I suspected he was the person giving information to Evans.

He asked us to all alight from the vehicle and gave me N5000, promising to call me. One month later, Skudo called and gave N200,000 as my share, saying the balance of the money would be paid later. One month after that Skudo called again and said Evans said I should come for my balance. When I got to Ago and entered his vehicle, I sat in the front and we drove into Festac Town where we kidnapped a man.

One month after, Skudo called and gave me N1.8million as my share. I also took part in two other kidnappings in Amuwo Odofin and Satellite Towns where I was given N800,000 each as my share. Evans didn't pay me for the last operation and he stopped calling me for jobs.

I spent most of the money on women and hotels. I also got married with part of the money.
Chilaka Ifeanyi
, 30 from Mbaise area of Imo State, who was arrested by the police and dismissed by the army in connection with Evans, said he didn't partake in any kidnapping with the kingpin.
"I am also attached to the band core of the Nigeria Army at Abati Barracks. A brother of one of my colleagues got me into this mess. His name is Ikenna and I knew him through my colleague, Nnoso. Last year Ikenna came to my house. I met him at Cele bus stop and we went to Ago together. We drove around in Festac looking for a target but we didn't get the person after which I left. After Evans was arrested, my colleague was also arrested and the Police came for me. We were both dismissed from the army but nobody wants to believe that I had no hand in this," he said.
Nonso and Chilaka were arraigned alongside Evans last Tuesday and they both pleaded not guilty to the conspiracy and kidnapping charges.