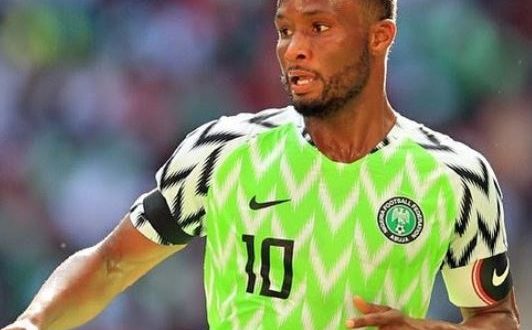 Mikel Obi.

In this interview, the Jos-based transporter recalls his terrifying five-day experience, reasons why his famous son rarely comes home, and more.

Daily Trust: You recently regained your freedom from kidnappers. Can you share your experience?

Chief Michael Obi: I was travelling home for a family meeting, early evening, in Enugu. I'd just reminded my driver to stop at the Ninth Mile to buy Okpa in case I fall asleep. Not quite long after a checkpoint, we heard gunshots ahead of us, so we stopped. My driver reckoned it was armed robbers, and tried to reverse the car. But another car from nowhere blocked us from behind, and the people within came and dragged us out. The kidnappers were six, well-armed and masked. They assaulted us, and dragged us into the bush. We walked for many hours, and when I complained that I could not continue, they beat me again. Eventually, they told my driver to carry me on his back. But after a while, he also got tired and dropped me.

We walked into the bush for what seemed like the whole night, until the next morning. I asked them what they wanted from me, and that was when they told me they wanted N100 million. We communicated in Hausa, and some broken English. I told them I could not afford it, and they said they heard that my son sends me N50 million to me bi-weekly. We started to negotiate, and they threatened to kill me. I told them I only had N2 million in my bank account.

When I noticed they were serious, I told them I could give them N5 million. We agreed on that sum, but they later refused, insisting on N50 million. I finally pegged it at N10 million. Two days later, they brought out my phone to call my son Tony, and I told him what was happening, and asked him to go to my bank. But when they went there, the manager was not on seat, so my other son, Ebele, who is the goalkeeper for Heartlands of Owerri, contacted Mikel. That was how the ransom was made available.

DT: How was the exchange done?

Obi: I asked them how the money could be made available to them, and they suggested that the money be brought to Mile 9. On Friday, my sons tried to get the money, but it could only be made available on Monday, since banks didn't operate at the weekend. When I told the kidnappers, they got mad and beat me.

So, in the early hours of Monday, they brought the phone and asked me to speak with my son, in English or Hausa only. My son told me they were on their way with the money, and the kidnappers warned that if we dare involve the police they would kill me. It was almost 12 noon when my son called to say they were at the agreed spot. God so kind, they used one of our transport buses, so they were able to cross the police checkpoint without any hitch.

The kidnappers warned that if they find that the money was short, they would kill me. But after almost two hours of the ransom arriving, the kidnappers still didn't go to collect the money. I told them not to blame me if anything happens to the money. They ignored me, and their leader brought out marijuana and shared it round, and they smoked. When they finished, four of them left, leaving two to guard us. Almost two hours later, the two asked us to get up and move, then gave my driver one of my phones. A few minutes later, we heard gunshots. We fell to the ground, while the two ran off. As we lay there, we heard shouts saying the shooters were the police, come to rescue us. They did, and led us to the main road.

DT: What about your car, and the ransom money?

Obi: It was later that the DPO told us that my car was at the police station. My son Tony who carried the money told me they didn't collect it at the Ninth Mile, but asked him to follow them with the money. He said they moved into the bush, where he saw more armed gang members. He gave them the money, and they examined it. They later asked him to leave, and he came back and we reunited at a relative's filling station.

DT: How did they treat you when you were with them?

Obi: We slept on the ground, and for the five days we were with them, there was heavy rain for three. It drenched us under a tree. It was only once that they brought us Okpa and pure water. Miraculously, I was never hungry. My thoughts were on how to get home safe.

DT: How different was the experience from the one of 2011?

Obi: Those first kidnappers did not treat me as badly as these ones. Though I stayed in a bunker for 11 days during the first, they gave me food and the only time they beat me was when they captured me.

DT: Was any ransom paid then?

Obi: None was paid. It was the handwork of God

DT: Your son Mikel paid the recent ransom. What's your relationship like?

Obi: It is an issue, but we don't know what to do. It's over five years now without a phone call from him to me. But he communicates with his mother.

There is nothing I have not done to fix it. God has told me that I should not feel hurt. When we start to talk about it, I say, 'Well, as long as I see him on TV, doing great, no problem'.

DT: But some people say he called you recently…

Obi: During the just-concluded World Cup, one or two days to one of their matches, we spoke. He called his mum, and she told me that Nchekwube (Mikel) was on the phone and I told him that God will see him through. I prayed for him. That'sit.

When he first joined Chelsea, my people in Anambra were very happy that God has blessed their son, and when he came to Abuja, they prepared very well with the hope that he will come to our hometown. They even made some magazines. It was grand. But he didn't come. It was a shameful thing to me, as a father. He once told his brother that sometimes he picks his phone to call me, but something tells him not to.

DT: Have you met your grandchildren, the twins, yet?

Obi: Sometime last year, he was to bring them so that I could name them, he said he would. But he didn't. His other colleagues frequent home, so I don't understand.

DT: Do you encourage him to invest at home?

Obi: Isn't that why kidnappers are targeting me? Because they think the money he makes, he ships it to me to make investments.