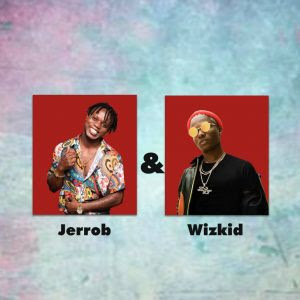 African music especially Afro-beats, Afro-fusion and other genres in the Afro-family are known for music that is rich in lots of natural musical instruments in the right proportion.
In the days of Afro-beat Legend, Fela Anikulapo Kuti, the world was able to feel the beauty of Afro-beat music, the sweet combination of musical instruments with combination of lyrics that present an identifiable message in a very entertaining manner. That's what Afro-beat was all about.
A lot of Nigerian artistes claim to be an Afro-beat or Afro-fusion artistes but when you listen to their sound, it's way below the real standard of Afro-beats. Too much unnatural musical instruments with no meaningful content.
One of the few artistes in Nigeria's music industry doing original Afro-beat and Afro-fusion is Jerro B. Sound-wise, (Olomu Jeremiah) whose stage name is Jerro B does Afro-fusion at it's highest standard.
His new song, "Your Matter" is a reflection of true "Afro Sound", starting with a combination of drums and saxophone setting you in the flexing mood of entertaining listening experience. The song which is a mid-tempo jam will have you moving every part of your body rhythmically to the tune.
What is unique about the song is that, you could tell the producer knew what is needed to make the song very pleasant to the hears. The simplicity technique in the beat production was top-notch, the producer wasn't trying to be too complex with the beat by adding a lot of unnecessary electronic instruments.
The production of this song, "Your Matter" by Jerro B reminds me of Wizkid's 2013 hit single "Jaiye Jaiye" featuring Femi Kuti. The role of Femi Kuti's sax on that song made it a big jam. Exactly how this Jerro B's afro-fusion song turned out
Little wonder the song performed so well on all platforms and topped different charts upon release. "Your Matter" by Jerro B topped Naija iTunes 6, it was on top 20 on Boomplay Ghana for days.
Currently, the song has over 60+ plays on audiomack and still counting, on Boomplay it was able to gather organic 60+ streams, while on YouTube the song has attracted over 6000+ views.
The above stats is a true reflection of how much people love Afro-Fusion or Afro-beat songs when done in a very original manner and ofcourse, Jerro B is fast becoming a name to reckone with when it comes excellent Afro-sound of this nature.
Talking about the content of the song, "Your Matter" is a contemporary love song which had "Jerro B" confessing what he would do for love. The song seeks to answer the question of what a man in love can do on top a lady's matter?
The song opens with a compelling chorus of how Jerro B the lover boy can literally die and dance on top of his fictional girl's matter.
The chorus continued with the singer requesting a dance session with the girl he's got madly in love with.
The lyrics paints a clearer picture of a happy man trying make a girl happy about her beauty, shape, body and every other thing that has to do with her with the goal of getting her to step into the dance floor for the sake of love.
Jerro-B whose origin is Isoko Delta State, South-South part of Nigeria was born in Osun State, South-Western part of the country. There are lots of South-West influence on his style of music as he delivers "Your Matter" with smooth combination of Yoruba and Pidgin.
No doubt, Jerro B is one of the few new generation of artiste that will continue to raise the Afro-beat flag with fusion of other sounds in the nearest future.
If you've not listened to "Your Matter" by Jerro B, you should do that now and thank me later