A Nigerian disc jockey, Obianuju Catherine Udeh, popularly known as DJ Switch, has taken to social media to brag about how she "roasted" Nobel laureate, Wole Soyinka.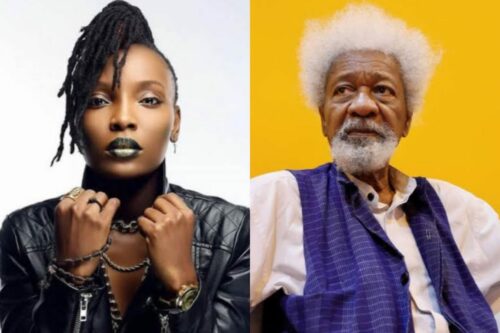 In a post shared on her Twitter page, DJ Switch boasted about criticizing Soyinka during a panel discussion, where she did not hold back in expressing her opinions.
DJ Switch highlighted Soyinka's decision to maintain a distinct separation from his works, contrasting him with his literary counterparts.
She claimed that Soyinka had exhibited what she perceived as bigotry and myopic thinking in recent months, prompting her to tackle him during the panel discussion.
The DJ emphasized that she carefully maintained decorum while confronting Soyinka's viewpoints, all the while praising other Nigerian writers.
"Was a panelist at an event over the weekend and just before the event started, we all got talking about African writers and of course Nigeria's contribution.
"Someone brought up Wole Soyinka (whose works are quite exceptional if I might add)… and I was given the floor.
"Brethren… I would like to let you people know that I did not let one bullet go astray! Wole Soyinka unlike many of his counterparts chose to be completely separate from his works and also chose to display his bigotry and myopic thinking these past few months.
It was my esteemed pleasure to roast the uncle while maintaining decorum and extol other Nigerian writers!" she wrote.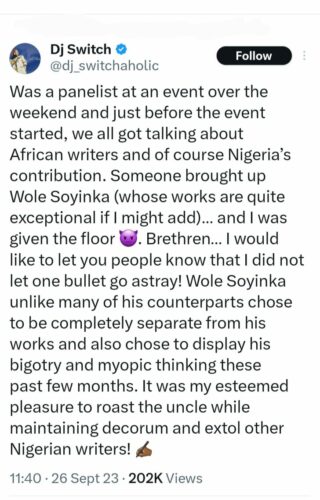 The post DJ Switch Brags About "Roasting" Professor Wole Soyinka During Panel Discussion appeared first on tooXclusive.
source
https://tooxclusive.com/dj-switch-brags-about-roasting-professor-wole-soyinka-during-panel-discussion/