Nigerian rapper, Naira Marley has finally shared his own side of the story on the death of his former signee, Mohbad.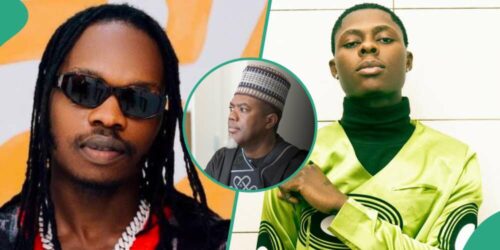 In an interview with Reno Omokri, a political commentator and social activist Wednesday, Naira Marley clarified that he had been out of the country since August 1st, 2023, to visit his family and categorically denied any involvement in Mohbad's death.
Addressed accusations against him, The rapper stated, "If you're blaming me for Mohbad's death, how did I kill him when I wasn't in the country?; I wasn't in the country when Mohbad told Nigerians to hold me responsible if anything happened to him."
He added that the death of Mohbad came as a shock to him just like every other Nigerian seeking justice for the "Peace" crooner.
The rapper also revealed that he had attempted to provide professional psychiatric assistance for Mohbad, covering the costs of scans.
He said, "I tried to get professional psychiatric help for Mohbad and paid for scans."
Naira Marley further shared a video capturing his final conversation with Mohbad, where the late singer opened up about struggling with suicidal thoughts.
Concerned about Mohbad's well-being, Naira Marley recounted another incident where he received a distress call from Mohbad's girl, reporting a suicide attempt.
He said: "There was another time when I was in America and his girl called me to say he (mo hbad) locked himself in the toilet and he wanted to kill himself or something like that. So, I called him from there and recorded the conversation."
During their conversation, Naira Marley asked Mohbad: "Why do you want to kill yourself? You are a king, if your family is stressing you out(because this time, he was with his family) just tell them to chill, you can do what you want to do, do not stress yourself, if you kill yourself now, what do you want people to say."
The rapper continued, "I was so concerned so I called him to try to give him rest of mind, if your family is stressing you out, leave. He wanted to commit suicide, in the video, I was just trying to find out what was wrong with him."
Regarding other allegations, Naira Marley addressed his relationship with Lagos socialite Sam Larry and reiterated his willingness to return to Nigeria to clear his name.
Regarding DJ Splash's accusations of causing his illness, Naira Marley clarified that he hadn't officially signed DJ Splash and that any affiliation was limited to taking pictures together. He asserted that DJ Splash's illness did not originate during his time in Naira Marley's home.
When asked about returning to Nigeria to assist in the investigation, Naira Marley indicated that he would only do so if the police could guarantee his safety.
The post "Mohbad Was Suicidal For Ages" – Naira Marley Opens Up To Reno Omokri [Video] appeared first on tooXclusive.
source
https://tooxclusive.com/mohbad-was-suicidal-for-ages-naira-marley-opens-up-to-reno-omokri-video/