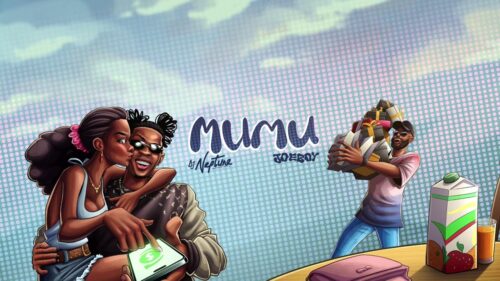 Greatness!!!
Sig
Signal
Pon deck
DJ Neptune, Hit me
Oya romance me
Feed me till I belle full
Mo ni ko fa mo mi
I'm your man and I'm your boo
Order bills on me
Because the pocket heavy too
And I must shine my thirty-two when I see you
Making me fall again, again
Me I go come again, again
Anytime you call my name, my name
I go answer eh
Body wey get power, ah eh
Na water bam bam eh
Go call your father eh and call your mother eh
You, fine from your head to your shoe
Wetin you want I go do
Na love I dey love I no be mumu waka
Yeeh, carry your matter for head
Omoge you scatter my brain
Na love I dey love I no be mumu waka
You self know say you bad
You dey overtake
I get sugar to give o
Come and chop my cake oo
Odo nothing to you
Nobody do reach you
Oya give me small
No dey denge pose ahh eh
Critically, nobody fit do you like me
Babe oya sit down pon it pon it
Whine to the bass make you injure me
Go in go in go in
Na pop we dey pop we go get limit
Babe you can sit down on my face
I go give you time that you gave me
Making me fall again, again
Me I go come again, again
Anytime you call my name, my name
I go answer eh
Body wey get power, ah eh
Na water bam bam eh
Go call your father eh and call your mother eh
You, fine from your head to your shoe
Wetin you want I go do
Na love I dey love I no be mumu waka
Yeeh, carry your matter for head
Omoge you scatter my brain
Na love I dey love I no be mumu waka
You, fine from your head to your shoe
Wetin you want I go do
Na love I dey love I no be mumu waka
Yeeh, carry your matter for head
Omoge you scatter my brain
Na love I dey love I no be mumu waka
Greatness!!!
DJ Neptune
Joe, Joeboy pon deck
Joeboy pon deck, Joe Joe
Joe, Joeboy pon deck
Joeboy pon deck
Sounds Of Neptune
Decoded DJ Neptune Mumu ft. Joeboy Lyrics
DJ Neptune, a seasoned Nigerian disc jockey, record producer, and composer, released the song "Mumu," which featured Joeboy, a talented Nigerian singer-songwriter and member of the emPawa Africa label. These talented musicians never cease to amaze us with fresh, seductive music that should be on everyone's playlist.
The melodic, contagious sound that Joeboy and DJ Neptune produce together is irresistible to listeners. Their collaboration serves as an illustration of the stunning results that talented artists can achieve when they work together. The 26-year-old vocalist is frequently cited as one of the extremely talented musicians to watch out for in Nigerian music circles in the coming years. He expertly combines enticing melodies with humorous text to produce a song that is catchy and provocative.
The tracks "Nobody" and "Abeg," which were created in collaboration with Joeboy and DJ Neptune, are significant examples of their remarkable musical work. MuMu, a compelling duet, is also projected to become another number-one smash.
Relatability
This enthralling and well-known song, "MuMu" by Joeboy and DJ Neptunes, has features that are likely to stir up a great sensation of excitement and satisfaction. As he handled the exquisite verse of this excellent song with his customary rhythm of explicit vocals, Joeboy was audible in his natural environment, which is not unexpected. In the song, a lover who has fallen head over heels for their sweetheart is shown confessing and demonstrating their love for her since they find her to be incredibly attractive. Due to this analogy, the music is extremely relatable to music lovers.
"Mumu" demonstrates DJ Neptune's outstanding artistic talent and distinctive musical taste. We frequently go out of our way when we find that one person who strikes us with such admiration and a blissful atmosphere, and he effortlessly takes listeners on a trip of love by letting them know how you feel with his smooth vocals and charming presence. This may increase their likelihood of accompanying you home. Numerous music lovers are sure to relate to the song's relatable topics and captivating melodies.
Delivery
The captivating new song "MuMu", which was just released by Joeboy, a well-known Nigerian Afrobeats artist who is redefining the genre by introducing it to the world in an experimental and captivating way, showcases Joeboy's incredible musical talent and attests to his growth and originality. Joeboy is a well-known personality in the Nigerian music scene for this generation of artists, which is noteworthy. The artist's ardent admirers, who view him as an advocate for good music, are very interested in the new odd song "MuMu ft. DJ Neptune."
Replay Value
Amazingly, "MUMU" stands out for its gripping melodies and irresistible sounds as one of Jorboy's best songs this year. It effortlessly keeps listeners' attention from start to finish and makes them yearn for more of his unique sound.
DJ Neptune's vocals and Joeboy's distinctive lyrics work together to create a seamless fusion of many different genres of music. Together, they give an impactful performance that is memorable and forceful. In the gorgeous song ''MUMU'', which was just recently released in 2023, Joeboy and DJ Neptune did a fantastic job on the instruments and backup vocals. This song is anticipated to perform well not only on local charts but also on international streaming services. It is not surprising that Joeboy, a rising star, is one of the few vocal elites this year to consistently deliver top-notch music to their devoted fans. With DJ Neptune on the track, the song had a reasonable replay value and was tastefully performed by the talented singer.
Rating
Delivery: 1.8/2
Lyricism: 1.7/2
Relatability:1.7/2
Mixing and Production: 1.8/2
Replay Value: 1.7/2
The post MuMu Lyrics by DJ Neptune & Joeboy appeared first on tooXclusive.
source
https://tooxclusive.com/mumu-lyrics-by-dj-neptune-joeboy/