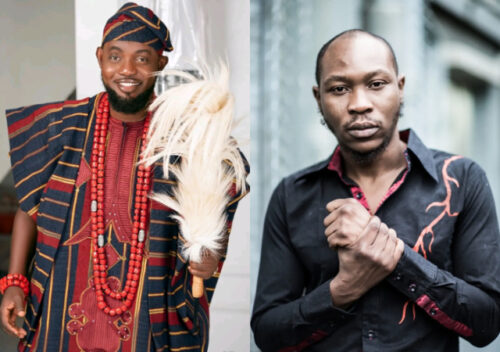 Nigerian comedian Ayo Makun responded to artist Seun Kuti's mockery of him on his situation.
The comedian and his family had to temporarily relocate to the United States after losing their Lagos house to a fire. This is no longer news.
Seun Kuti made light of his suffering on Wednesday by pointing out that AY had referred to his daughter as a dog in one of his dry sketches and had also made jokes about his own hardships.
He asserted that AY had always had his back, particularly after he lost his house, yet AY would often make jokes mocking his daughter.
He revealed shocking information about the comedian, saying that everyone in the business knows that AY hits his wife and has a smelly mouth.
In response, AY pointed out that the more he attempts to stay neutral and refrain from constant criticism, the more he perceives himself as a prearranged source of suffering for other people.
He had said he didn't want to reply to Seun Kuti, but after hearing his accusations that he hits his wife and depicts his daughter as a dog, he had second thoughts.
He shared a video and urged Seun Kuti to identify the exact moment in which he said that his daughter was off-limits to him.
"Amongst every good thing that has happened in my life and career in recent times, this year has also offered me to many as an unfortunate victim of unforeseen serial circumstances. The more I try to avoid the animosity and incessant attacks, the more I see myself as a programmed misery meal made from the recipe of some collective and very intentional chefs.
Before they say to you guys bon appétit' with a smiling face and victory song, Can you all please bear the hunger for a few more minutes and ask real questions concerning all the ingredients that brought this meal to the table?
I promised I wasn't going to respond to @bigbirdkuti
not until he mentioned me calling his child a dog. He also labeled me as a wife-beater, and ONLY God sees and knows where all that came from.
For me, children are completely off-limits. They are our most valuable resource. They are the deposits we make here on Earth to carry our names when we are no longer around. Their mothers double as our wives and the very best help mates that we all cherish as men.
Having said all that, kindly watch this video, and LET ME KNOW WHEN, WHERE, AND HOW EXACTLY I CALLED @bigbirdkuti. DAUGHTER A DOG…
GOD NO GO SHAME US".
The post "For me, children are completely off-limits"- AY Makun Replies Seun Kuti, Clears Air appeared first on tooXclusive.
source
https://tooxclusive.com/for-me-children-are-completely-off-limits-ayo-makun-replies-seun-kuti-clears-air/